Zyflox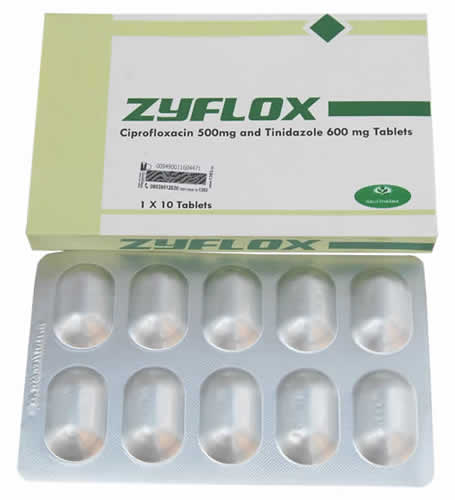 Composition
Each film coated tablet contains:
Ciprofloxacin hydrochloride BP Equivalent to Ciprofloxacin 500mg
Tinidazole BP 600mg
Excipients q.s.
Colour: Titanium Dioxide
Pharmacology Action
Ciprfloxacin has in vitro activity against a wide range of gram-negative and gram-positive microorganisms. The bactericidal action of ciprofloxacin results from inhibition of enzymes topoisomerase II (DNA gyrase) and topoisomerase IV, which are required for bacterial DNA replication, transcription, repair, and recombination. Ciprofloxacin has been shown to be active against most strains of the following microorganisms, both in vitro and in clinical infections including Pseudomonas aeruginosa.
Tinidazole is active against most anaerobic bacteria including Bacteroides fragilis, Bacteroides melaninogenicus, Bacteroides spp., Clostridium spp., Eubacterium spp., Fusobacterium spp., Gardnerella, Peptococcus spp., Peptostreptococcus spp., and Vellonella spp.
Indications
Oral: Respiratory tract, Urinary tract, ENT, skin and soft tissue, GI tract, intra-abdomonal, gynaecological. Bone and joint, severe systematic infections, Gonorrhoea. Prostatitis, throat infection, enteric fever and eye infection.
Dosage & administration
As prescribed by physician. 1 tablet twice daily for 5 – 10 days depending on severity and response Gynaecological infections, intra-abdominal infections. Prophylaxis of surgical infections; contraindication in children less than 18 years.
Contradictions
ZYFLOX is contraindicated in persons with a history of hypersensitivity to ciprofloxacin, any member of the quinolone class of antimicrobial agents, or any of the product components. Concomitant administration with tizanidine is contraindicated. ZYFLOX is contraindicated I patients having, or with a history of, blood dyscrasias although no persistent haematological abnormalities have been noted in clinical or animal studies. Tinidazole should be avoided in patients with organic neurological disorders. Tinidazole crosses the placental barrier and is present in the breast milk when administered to nursing mothers. Since the effects of compounds in this class on foetal development and in newborn are not definitely known, tinidazole is contraindicated during the first trimester of pregnancy and in nursing mothers during the neonatal period. Tinidazole should not be administered to patients with known hypersensitivity to the compound.
Drug Interaction
Zyflox interacts with antacids (aluminium/magnesium hydroxide), Iron salts, Zinc salts; Absorption of ciprofloxacin is decreased. Antineoplastic drugs: Decrease serum levels of ciprofloxacin. Caffeine: Enhanced efficacy of caffeine. Oral anti-coagulants: Enhanced efficacy of anti-coagulants. Cyclosporine: Nephrotoxicity increased by ciprofloxacin. Theophylline: Increased plasma levels oftheophylline resulting in toxicity. NSAIDs: CNS excitation.
Chloramphenicol
Antagonises effects of ciprofloxacin. Tinidazole when taken together with alcoholic beverages have caused abdominal cramps, flushing and vomiting. Closely related chemical compounds enhance the activity of warfarin. If Zyflox is given to patients receiving warfarin or other anticoagulants, the dosage of the latter should be recalibrated.
Warning & Precaution
Pregnancy: Zyflox Tablets should not be used during pregnancy unless the potential benefit justifies the potential risk to both fetus and mother.
Nursing Mothers: Zyflox Tablets should be used with caution if the potential benefit justifies the potential risk to nursing mother.
Adverse Effects: Most common adverse effects observed with ZYFLOX are Nausea, epigastric distress, headache, vomiting, diarrhoea, restlessness, abdominal pain, skin rash, insomnia, confusion, dizziness and arthtraigia.
Overdose: In the event of acute overdosage, reversible renal toxicity has been reported in some cases. The stomach should be emptied by inducing vomiting or by gastric lavage. The patient should be carefully observed and given supportive treatment, including monitoring of renal function and administering of magnesium, aluminium, or calcium containing antacids which can induce the absorption of ciprofloxacin. Adequate hydration must be maintained.
Presentation
Zyflox Tablets are packed in Alu-Alu packages of 1 x 10 tablets.